Billing
Introduction

Your billing cycle is dependent on whether you've elected to be billed monthly or annually, based on your actual sign-up date.

Your Raygun bill is made up of two components: reserved events + on-demand events.

For the list of plans and prices, head to our pricing page for details.
---
Events

An event is a unit of measurement that Raygun uses. This could be either an error instance, user session or trace. Events are what the Raygun system processes on your behalf, making the data available to be viewed in your account.

There are three event types that Raygun bills on:
1. Crash Reporting

An event in Crash Reporting is an error instance. Each error instance is shown in Raygun with metadata about the error (stack trace, breadcrumbs, etc). Metadata are not recorded as additional errors.

You can find more information on error instance in our Crash Reporting product guide.
2. Real User Monitoring

An event in Real User Monitoring is a user session. A session is defined as a set of activity by a user within a half hour block. If a user performs an action after half an hour has elapsed since their previous one, a new session will be recorded.

Check out our Real User Monitoring product guide for more information on user sessions.
3. Application Performance Monitoring

An event in Application Performance Monitoring (APM) is a trace. A trace is a profiling trace of a given request.

Head to our APM product guide for more information on traces.
---
Reserved events

Each month you will receive an allocation of events that Raygun processes on your behalf. The number of reserved events is allocated according to your plan.

When you purchase a new plan, you can select your monthly allocation of events per product, starting from a minimum allocation of 10k events.

note: On annual plans, reserved events are pre-purchased as a monthly allocation for each of the next 12 months.

Please contact us if you would like to increase your allocation of reserved events.
---
On-demand events

On-demand events are unlimited, giving you the flexibility to continuously monitor your software without changing plan tiers. The billing for on-demand events is charged per event (see prices below), payable at the end of your billing month, regardless of your plan billing cycle.

Per event charge by product:
Crash Reporting: $0.0006 per error event
Real User Monitoring: $0.0012 per session
Application Performance Monitoring: $0.0012 per trace
Examples:

If you chose an annual billing cycle

You purchased an annual subscription of Real User Monitoring on 1 January 2020 for $96 ($8 X 12). After one month, your website or mobile application also used 15,000 on-demand events. On 1 February 2020, you will be charged for the on-demand events that you had used in January:

$0.0012 X 15,000 = $18.00

If you chose a monthly billing cycle

You purchased a monthly subscription of Real User Monitoring on 1 January 2020 for $12. After one month, your website or mobile application also used 15,000 on-demand events. On 1 February 2020, you will receive the next monthly invoice for 1 Feb - 1 March 2020, as well as the on-demand events that you had used in January. Your total invoice will look like:

$12 + ($0.0012 X 15,000) = $30.00

You can keep track of your on-demand events in the Usage section of your Raygun app.

You can save approximately 30% by reserving more events up front. Want to learn more, get in touch.
---
Billing emails

Only the creator of a plan and those specified in the Billing CC email field will receive billing related emails.

The Billing CC email field can take any number of email addresses separated by semicolons.

Users in the Billing CC list will not be added to the Owners team and aren't required to have a Raygun account. This is useful for finance teams.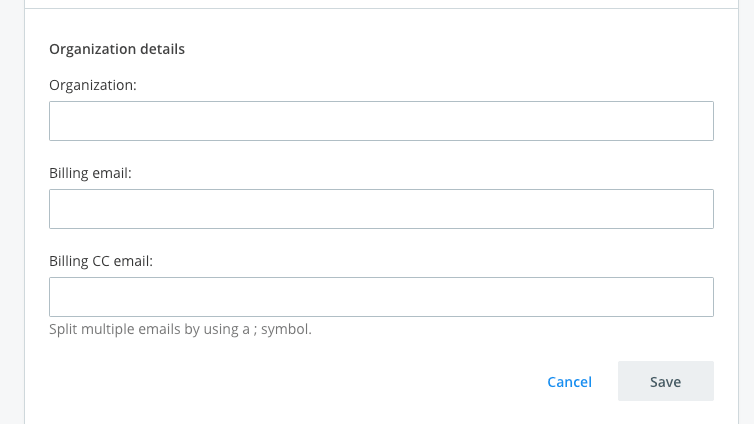 ---
Usage

You can monitor your plan's usage on the Plan Settings page under the Usage tab. Here you can find the amount of reserved events that have been recorded and the amount of on-demand events that have occurred during your billing month to date.

Your usage in the form of reserved events + on-demand events will also be shown on your invoices.
---
Frequently asked questions
What is an application?

In Raygun, an application is a container for your crash reports relating to software you have written. It's a logical container, not necessarily a physical container.

Most Raygun plans have an unlimited number of applications.

It is entirely your choice about what denotes an application. For example:
For a small software team where all developers work on all the code of a website, an application might be the website, its background services, etc.
For a medium software team, you may have an application per component (e.g. website, and email service, and search indexer).
For a large software team, you may want to break a single software application into multiple applications in Raygun (e.g. the website is one app in Raygun, and the check flow is another application because developers on your team are focused on different areas of the software).
All you need to do to change the application in your code is to use a different API key (one is issued with each application you create in Raygun). It really is up to you where the boundaries are for an application. There are several things to keep in mind however:
Notifications via email are per-user, per-application. So making sure your team members can turn off messages for applications they don't care about is important. It helps them maintain a healthy inbox, and means when they get a Raygun notification they know it's something of importance that relates to them.
Similarly, integrations (e.g. with Slack, Jira, etc) are per-application. This means if you want to direct certain errors to a different slack channel, or have them work with a different project in Jira, then you'd want to make sure your app boundaries work with that.
Team visibility is managed at the application level also. If you have applications you do not want some teams to see, then you would want to create separate applications in Raygun so you can control the visibility.
What currency are the plan costs listed in?

The plans are listed in US dollars on the plan pricing page. This amount is charged per month. As per usual, when your credit card is billed the payment processor may convert it to your local currency if you have a non-US credit card, using the current exchange rate. Depending on your location, you may also have the option for your credit card to be billed in your local currency directly.
Do you support 3D Secure?

Yes, all payments to Raygun are validated by 3D Secure. 3D Secure (3-domain structure), also known as a payer authentication, is a security protocol initiated and created by Visa and MasterCard. 3D Secure protects a buyer's credit card against unauthorized use when making purchases online. This simple service enables buyers to validate transactions you make over the internet by requesting a personal code (usually sent to your cell phone or email address as a one time PIN).
What payment types do you accept?

You can use a credit card with Raygun - we accept Visa, Mastercard and American Express. If you have specific requirements, for instance if your organization requires a purchase order, please contact us.
Can I try Raygun before I buy it?

Absolutely! Everyone can try Raygun. It's completely free for 14 days, no credit card required. Alternatively you can book a demo with our team.
Is Raygun safe to put into my production environment?

Raygun runs best in production, but can be used anywhere! Raygun is designed to be included in high volume production applications and sits quietly in the background collecting information about errors and issues. Raygun will be invisible to the end user and it is up to you how much information you wish to send to Raygun with your error reports.
What will happen if the trial expires and Raygun code is still present in my application?

There will be no adverse affects to your application and it will still continue to function as normal should your Raygun account be cancelled or trial ends. Any events that are sent to Raygun will simply be rejected by our service and not processed.
Does it take much work to integrate Raygun with my software?

Not at all. The simple setup can be integrated into your application within a couple of minutes. Should you need any assistance we are on hand to assist you.
How safe is my data?

We take security seriously at Raygun. Check out this page for more information on maintaining data security, HIPAA compliance and how data is stored.
How do I change my billing details?

If you have a personal (non-organisation) account and want to modify your billing details, begin by logging in to Raygun and clicking on your name in the top-right.

Select Account Settings -> Billing Details.

Only plan owners can modify an organization's billing details. This can be done by clicking on your username in the top right corner and clicking on the plan you want to modify. In the Plan Settings Screen under the Plan Overview Tab in the Plan Details section you will be able to update your company details.

For more information on this check out our documentation.
Can I upgrade or downgrade later?

This functionality is only available for legacy plans. You can upgrade at any time to access additional features and functionality. Downgrading is also possible as long as your recent usage fits within the parameters of the smaller plan. Downgrades will be actioned on your next billing anniversary.
Can I pay annually and can I be invoiced for my plan?

We encourage you to choose an annual plan to make the most of our large discounts for annual plans. We only support invoice based billing on annual Enterprise plans.
What sales taxes are applied?

Raygun is a multi-national company, with offices in New Zealand, and the United States. For New Zealand customers, GST of 15% is added. For customers based in the United States, sales tax may be applicable depending on where you are located.
What levels of support are included?

Ask us a question at any time via the feedback link on your Raygun dashboard. Our friendly team aims to respond to all support request as soon as possible. We offer personal phone support, SLAs and custom support agreements for Enterprise customers.
How do I manage my event allocation?

This functionality is only available for legacy Platform plans. You can manage the division of events using the Event Allocation slider. This provides a way to choose the split of your total entries between crashes and sessions.

This feature is available for plan owners of Platform Startup and Platform Small Business plans.
To access event allocation, go to the plan settings page and click the event allocation tab.

More information about event allocation can be found in our documentation.
How do I temporarily disable Raygun products?

To disable Raygun products, simply remove the Raygun API key from your application. This means Raygun will no longer be monitoring your application.

You can enable Raygun again by re-inserting the API key back into your application.
How do I cancel my account?

Plan owners can submit a cancellation request by:
Logging into your Raygun account
Click on your name on the top right of the app
Choose the plan you wish to cancel from the dropdown
On your Plan Overview page, there is a "Request cancellation" button on the bottom right hand side of the "Current subscriptions" section
Click on that button and follow the instructions on screen
You will receive an email from us within 1 working day, when we have actioned the cancellation on our end.