Amazon SQS
Amazon SQS setup instructions
Click "Integrations" from the Raygun sidebar and select Amazon SQS.

Click the "Setup" tab and follow the on-screen instructions to enter the SQS Queue URL, access key, secret key, and the region code your queue is hosted in. A table of valid region codes are listed below.
tip: We strongly recommend creating a unique IAM user account for this integration with access rights to the queues you are going to publish to via Raygun.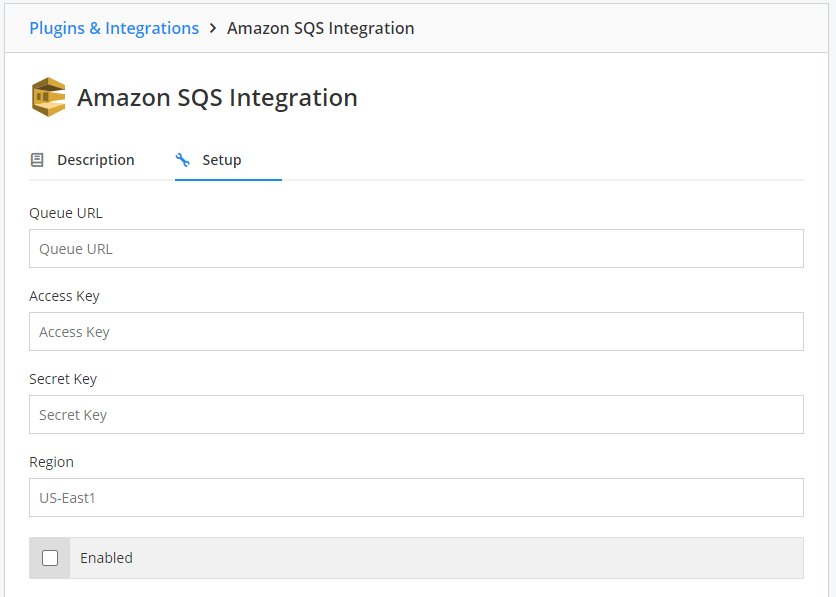 ---
Notifications

Notifications will be sent when the following conditions are met:
A new error has occured
Error reoccured after being resolved or ignored
Error still occuring 1, 5, 10, 30, 60 minute/s later
---
Supported Region Codes
| | |
| --- | --- |
| USEast1 | US East (N. Virginia) |
| USWest1 | US West (N. California) |
| USWest2 | US West (Oregon) |
| EUWest1 | EU (Ireland) |
| SAEast1 | South America (São Paulo) |
| APSoutheast1 | Asia Pacific (Singapore) |
| APSoutheast2 | Asia Pacific (Sydney) |
| APNortheast1 | Asia Pacific (Tokyo) |
---
JSON Payload

Payloads that are submitted to SQS will be in the following JSON format
{


  

"CrashReportingNotification"

:

 

{


    

"NotificationInfo"

:

 

{


      

"Type"

:

 

"NewErrorOccurred"

,

 

// see Notifications section above for the valid range of codes supplied


      

"Message"

:

 

"A new error has been reported for Mindscape Website, the error was document.width is not a function"


    

},


    

"Application"

:

 

{


      

"Name"

:

 

"Mindscape Website"

,


      

"Url"

:

 

"http://app.raygun.com/crashreporting/8rty6f"


    

},


    

"Group"

:

 

{


      

"Title"

:

 

"document.width is not a function"

,


      

"Url"

:

 

"http://app.raygun.com/crashreporting/8rty6f/errors/1102848291"

,


      

"FirstOccurredOn"

:

 

"2015-09-06T02:14:48Z"

,


      

"Count"

:

 

19530

,

 

// refers to the total number of occurrences of this error seen across all time


      

"RecentRate"

:

 

123.45

,

 

// refers to the current rate of errors over the last minute


      

"RecentTrend"

:

 

"Increasing"

 

// indicates if RecentRage is increasing or decreasing


    

},


    

"Error"

:

 

{


      

"OccurredOn"

:

 

"2016-08-10T22:14:07.8771382Z"

,


      

"Url"

:

 

"http://app.raygun.com/crashreporting/8rty6f/errors/1102848291#1102848292"

,


      

"Details"

:

 

{

 

// this section contains a copy of the full payload data that was submitted to Raygun


        

"Error"

:

 

{


          

"ClassName"

:

 

"TypeError"

,


          

"Message"

:

 

"document.width is not a function"

,


          

"StackTrace"

:

 

[


            

{


              

"LineNumber"

:

 

1

,


              

"ColumnNumber"

:

 

98012

,


              

"ClassName"

:

 

"line 1, column 98012"

,


              

"FileName"

:

 

"http://www.mindscapehq.com/content/js/inner_E22C8C0D74230CDEF0A594B375FC930E.js"

,


              

"MethodName"

:

 

"at "


            

},


            

{


              

"LineNumber"

:

 

1

,


              

"ColumnNumber"

:

 

254

,


              

"ClassName"

:

 

"line 1, column 254"

,


              

"FileName"

:

 

"http://cdn.raygun.io/raygun4js/raygun.min.js"

,


              

"MethodName"

:

 

"b"


            

},


            

{


              

"LineNumber"

:

 

1

,


              

"ColumnNumber"

:

 

37420

,


              

"ClassName"

:

 

"line 1, column 37420"

,


              

"FileName"

:

 

"http://www.mindscapehq.com/content/js/inner_E22C8C0D74230CDEF0A594B375FC930E.js"

,


              

"MethodName"

:

 

"dispatch"


            

},


            

{


              

"LineNumber"

:

 

1

,


              

"ColumnNumber"

:

 

33299

,


              

"ClassName"

:

 

"line 1, column 33299"

,


              

"FileName"

:

 

"http://www.mindscapehq.com/content/js/inner_E22C8C0D74230CDEF0A594B375FC930E.js"

,


              

"MethodName"

:

 

"i"


            

}


          

]


        

},


        

"Environment"

:

 

{


          

"UtcOffset"

:

 

-4

,


          

"Browser-Width"

:

 

1904

,


          

"Browser-Height"

:

 

924

,


          

"Screen-Width"

:

 

1920

,


          

"Screen-Height"

:

 

1080

,


          

"Color-Depth"

:

 

24

,


          

"Browser"

:

 

"Mozilla"

,


          

"Browser-Name"

:

 

"Netscape"

,


          

"Browser-Version"

:

 

"5.0 (Windows NT 10.0; Win64; x64) AppleWebKit/537.36 (KHTML, like Gecko) Chrome/52.0.2743.116 Safari/537.36"

,


          

"Platform"

:

 

"Win32"


        

},


        

"Client"

:

 

{


          

"Name"

:

 

"raygun-js"

,


          

"Version"

:

 

"2.1.0"


        

},


        

"UserCustomData"

:

 

{},


        

"Tags"

:

 

[],


        

"Request"

:

 

{


          

"Url"

:

 

"http://www.mindscapehq.com/blog/index.php/2012/1/12/caliburn-micro-part-1-getting-started/"

,


          

"QueryString"

:

 

{},


          

"Headers"

:

 

{


            

"User-Agent"

:

 

"Mozilla/5.0 (Windows NT 10.0; Win64; x64) AppleWebKit/537.36 (KHTML, like Gecko) Chrome/52.0.2743.116 Safari/537.36"

,


            

"Referer"

:

 

"http://www.mindscapehq.com/products/wpfelements/mvvm-pattern-in-wpf"

,


            

"Host"

:

 

"www.mindscapehq.com"


          

}


        

},


        

"Version"

:

 

"3.4.0.0"

,


        

"User"

:

 

{


          

"Identifier"

:

 

"testing-identifier"

,


          

"IsAnonymous"

:

 

true

,


          

"UUID"

:

 

"testing-user"


        

}


      

}


    

}


  

}




}