Raygun Real User Monitoring and User Privacy
Posted Sep 8, 2022
| 4 min.

(

679

words)
Those who have been paying close attention might have recently noticed small changes in sessions, browsers and platforms lists on Raygun.
---
If you're using RUM to diagnose user experience issues in different browsers and operating systems down to the detailed versions you will have seen that those details are not always available, with browser versions listed more generally as Firefox 102.0 or Chrome 103.0, for example.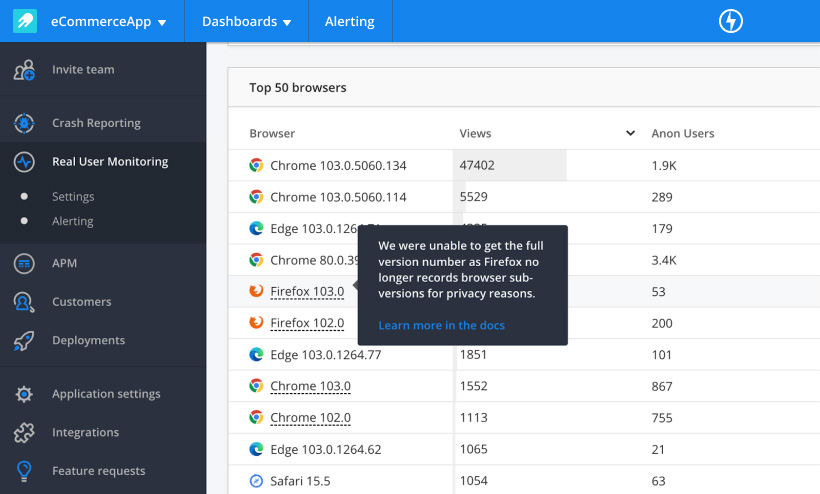 The agents of change
Earlier this year, gradual changes were introduced to the user agent request header, used for decades by browsers to pass on details about user sessions. In recent years, an increasing amount of details have been added to the user agent string, and a plethora of internet services are accessing these for a variety of reasons, most notably to display targeted advertising to the end user.
With a growing awareness for data privacy not just by regulatory bodies in the EU and elsewhere but also by users themselves, necessary changes are being made to browsers and user tracking to make the user experience more private. While we welcome all improvements to user experience, these changes are also affecting tools aiming to improve user experience, such as Raygun Real User Monitoring.
What changes can you expect to see
From version 101, Chromium browsers such as Chrome, Edge and Opera require third party providers to actively request browser and operating system version details via the User-Agent Client Hints API. Meanwhile, Firefox is currently not providing any version details, meaning that only main versions can be retrieved via the redacted user agent string.
For Raygun Real User Monitoring, this means that most browser and platform details will be available with your customer sessions when you use the Raygun CDN or update to the most recent raygun4js NPM or Nuget packages.
Some sub versions for Chromium browsers might be clustered into the main version and displayed as Chrome 103.0, for example. This happens in sessions for which we don't receive a useful response from the API, i.e. if your customers have opted out of sharing their browser and platform details.
Firefox sessions will only show redacted browser and platform versions. For sessions on Windows and Firefox, all versions from Windows 10 onwards will be displayed as Windows 10.
Our position on user privacy
At Raygun, our emphasis has always been on the "real user" rather than the "monitoring" part of Real User Monitoring. We want to give you the tools for providing the best experience to your customers, including protecting their privacy.
It is important to strike the right balance between collecting enough details for meaningful insights and ensuring customers know that their data is protected.
As an example, customer support teams might be using Raygun Real User Monitoring to look at which customers have been affected by an error in order to proactively contact them before they encounter a problem. For this, they want to be sure to only contact those customers affected which might require browser or platform details, as well as customer personal identifiable information.
How we help you protect you and your users privacy
In addition to our general security measures, we recommend the following to further preserve your customers' privacy in Raygun:
Redacting PII: If you do not require specific sensitive information about your customers you should remove this data before it is sent to Crash Reporting or RUM. Should you require some personal identifiable information, such as in the customer support scenario described above, you could also consider using a customer ID to cross reference them with your other systems.
Teams and permissions: Make sure that only those team members who need access to sensitive information are able to view the according applications in Raygun Real User Monitoring. You can do this by setting up teams on your plan and adjusting permissions.
Data Processing Addendum (DPA): Raygun is GDPR compliant and offers a DPA to all customers. You can sign the agreement in your plan settings.
Have a question for us? Please use the "Contact Raygun" link in the sidebar of your Raygun app to start a conversation.