If you have Raygun integrated into your web or mobile application and have ever worried about going over your plan's monthly error quota, this article's for you.
It can be quite easy to allow your active errors to get a little out of hand, but if we keep things organised we'll not only save time when looking to fix errors, we'll also be alerted to the errors that require our attention and make sure we don't go over your plan's error quota.
We have 6 tips on how you can reduce your software errors inside Raygun so you can keep your quota in check:
#1 – Make use of Raygun's handy error status tabs
#2 – Mark errors as 'Permanently Ignored'
#3 – Use the 'Usage' tab to see which errors are taking up the most of your plan quota
#4 – Fix Your Errors
#5 – Order Errors By Highest Occurrence And Fix The Biggest Problems First
#6 – Use the Inbound Filters feature to stop unimportant errors counting against your quota
Let's take a closer look:
#1 – Make use of Raygun's handy error status tabs
As you can see below the dashboard has a few tabs – which if you are using Raygun – you'll be familiar with.
Inside Raygun's dashboard let's look at the second tab  –  'Active'. This is where all new errors appear. There could be a few errors in here that are counting towards your quota. Once you have fixed an error in your application, it's important to move the error group to the 'Resolved' tab. If it re-occurs, it'll become active again. Keeping you dashboard organised with these error statuses gives you a kind of 'inbox zero' approach to errors and only see the important errors to pay attention to on your 'Active' tab.
#2: Mark Errors As 'Permanently Ignored'
If you're Active tab is looking a bit full, you're probably using up valuable space towards your quota. So, simply identifying the errors that are not important, we can't fix or we do not care about means we can send them into the 'Permanently Ignored' tab.
You'll stop getting error notifications for these errors and also save some quota space.
You can choose to discard error instances if they end up assigned to a Permanently Ignored error group. To do this, change the error group status to Permanently Ignored, but ensure the checkbox in the dialog is selected. That way when errors come in to Raygun, and you have them Permanently Ignored, they'll simply be dropped at the gate and not processed.
#3 – Use the 'Usage' tab to see which errors are taking up the most of your plan quota
Have you ever wondered which of your Crash Reporting applications are contributing to the most amount of error events reported inside Raygun?
Head to your "Usage" bar (under your named plan). This page allows you to view your Crash Reporting subscription usage for the month as well as a detailed error event breakdown by application.
Note – In order to see the usage tab you need to be a plan owner.
If you have a Pulse subscription, you can also view a usage breakdown of your subscription and a detailed session count by application.
This will simply order your apps with the ones that are recording the most errors, then take a deep dive into the diagnostics to see if it's worth permanently ignoring or fixing.
#4: Reduce Software Errors By Fixing Them! 
It sounds simple but the best way to reduce software errors being processed by Raygun is to fix them in your application. That way they are never sent to Raygun in the first place to be processed.
As Raygun gives you deep diagnostic information about each and every error happening in your code. Viewing this in the error details page will let you identify where the problem stems from. You'll be able to reduce software errors that your dashboard throws up by fixing them quickly.
The error details page also has functionality to loop in your team mates in the comments section or even assign them to a specific error. As Raygun lets you have unlimited team members, there's little excuse not to call out your team member who introduced the bug and slap them with an appropriate emoji!  
You can even hook it up with many of our integrations in order to send the details off to JIRA, Assembla or Trello and insert it straight into your team workflow.
#5: Order Errors By Highest Occurrence And Fix The Biggest Problems First
On the main Raygun dashboard view you are able to sort the table by amount of occurrences. This will bring to the top of the table the highest frequency issues affecting your application:
Prioritizing the error that have the highest occurrences means we can vastly reduce the number of errors happening in our app as well as save our quota from being taken up by the processing of these errors.
The more errors that Raygun processes for you, the more of your quota is used, so stopping these error groups first and fixing them up in your application could keep you well under hitting the limits of your plan.
#6: Set Up Inbound Filters To Stop Unimportant Errors Counting Against Your Quota (Available To All Plans) 
With this feature, you can choose to ignore errors according to IP address, machine name or version.
To make things simple, we've also included a quick list of the most requested filters that you can simply toggle on and off as needed.
With the Inbound Filters option, no need to worry about errors coming from legacy versions going against your company's cap. 
(Note: You can create multiple filter criteria. If the error matches any of the criteria it will be discarded. Great if you have one member of your team working on a new version release.)
Here's how to set it up:
Step #1: Head To Your Crash Reporting Application
From here, select the 'filtering' option: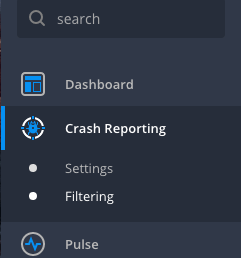 Step #2: Select Filter
From here, select your filter based on one of three criteria:
IP address

Machine name

Software version
You can also toggle some of the more frequently requested filters on or off as shown:
In Conclusion…
Keeping your dashboard organised with these 6 tips will not only stop you from going over your quota, but will make life nice and easy. You'll reduce your software errors and keep your 'to do' list clear!
Do you have any tips for keeping your quota in check?
Let us know in the comments below!