Making error notifications beautiful
Posted Jul 4, 2013
| 2 min.

(

301

words)
I'm very pleased to provide some details about our overhauled email notifications.
When we first built Raygun we focused on the process of sending them intelligently by grouping to time periods and thresholds. This was great for making the notifications easier to manage. We didn't spend a long time making them look good – in fact they were downright ugly in places!
Not any more!
A much better daily digest
Daily digest emails now give a summary table at the beginning of the email about the error groups and errors seen since last sent. This is a great way to quickly see if something has gone wrong or if all systems are running smoothly!
Secondly we now have each application that reported in errors. This includes a numbered list, links to configure the settings for the application as well as drill in on any of the errors of the day.
Lastly, any applications that haven't reported a single error for the day. All in all, this makes the digest a lot more usable for you.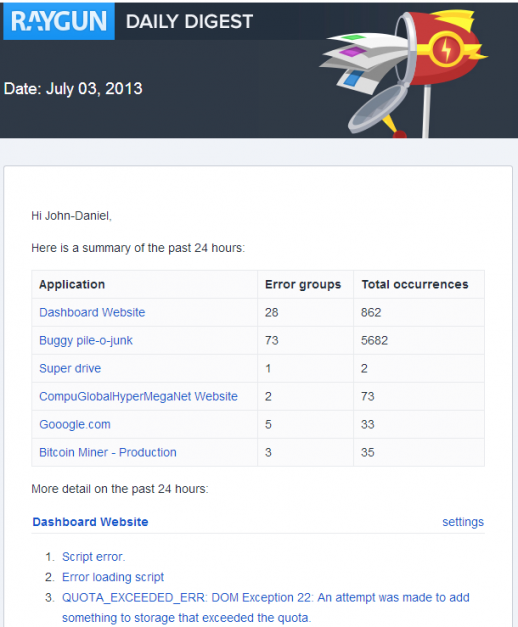 Error notifications
We've improved the UI on the normal error email. This is just a styling change, adding a nice banner, better text size and more cleanly displaying the list of actions.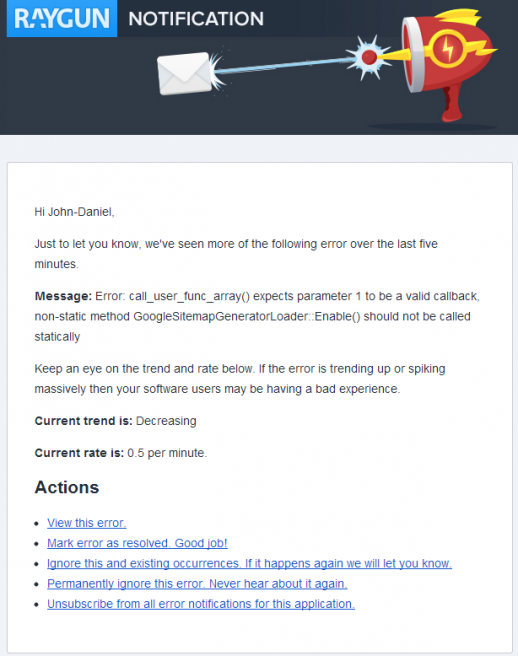 Intelligent mailing improvements
We've been monitoring our intelligent time based error notifications. We've made some small tweaks to the time intervals to reduce the email load you receive from errors – you'll still get a first sighting email, a five minute email, a ten minute email and a 30 minute email.
All notifications after the 'first sighting' email include trend information and rate details.
If you're an existing user of Raygun you already have these improvements available. If you haven't used Raygun yet, now's a great time to give it a free trial run!