12 Amazing Web Development Workstations
Posted Jun 24, 2014
| 4 min.

(

747

words)
As a web developer you'll know that your personal set up of screens, computers, devices and general work arena can have a big impact on your productivity. We've put together 12 awesome web developer workstations for you to find some inspiration from. Think your current set up can beat any of these beauties?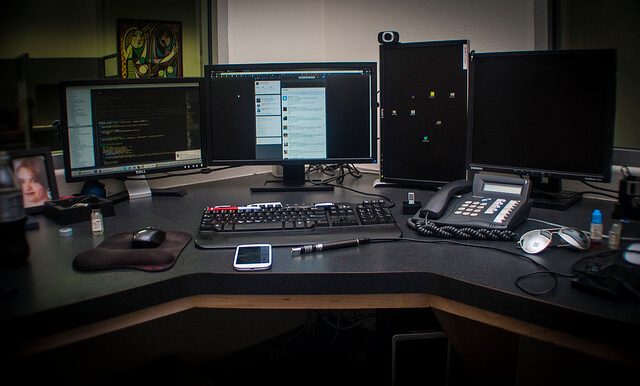 In the picture: My workstation at Entravision. As is, no cleanup.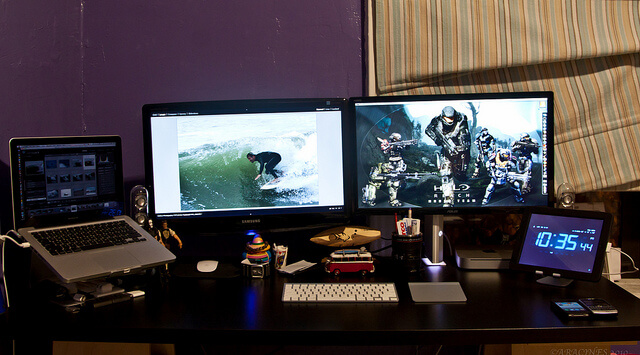 In the picture: MacbookPro 13 w/ SAMSUNG B2430H, Mac Mini 2.4ghz 4GB Ram w/ Asus VE248H, Speakers – Harman Kardon soundsticks II, iPad 3G 32GB on Elago P2 stand. The 2x 24inch LCDS are mounted on Planar Dual Monitor Stand. I'm using Synergy, to connect all 3 screens and to control the MacbookPro and Mac Mini wirelessly. Apple's Magic Trackpad 😀
In the picture: iPad SSh'd into my router displaying interface traffic, Logitech MX 5500, XKCD Mouse pad, 3 30″ LG monitors, 3 24″ Samsung monitors, Logitech Performance MX, Cisco 7940, iPhone 3Gs, Moto Droid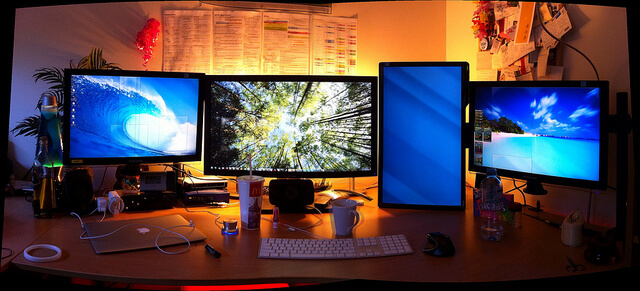 22″ Samsung 2252LW 1680×1050 x2, 27″ Dell U2711 2560×1440, 24″ BenQ G2420HD 1080×1920, Apple MacBook Air 13″, Logitech Z906, Logitech Performance MX, Griffin PowerMate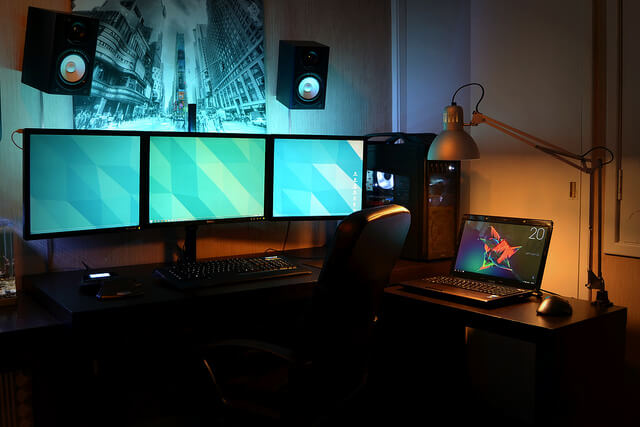 My 2014 workstation in its current state.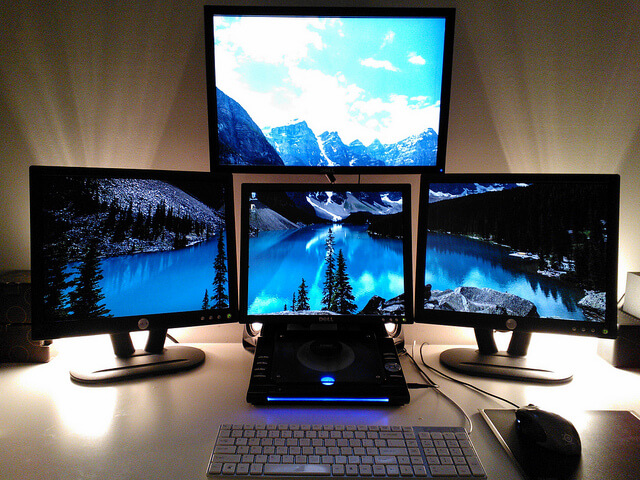 In the picture: Just a Dell Studio XPS with a couple video cards and 4 monitors 😉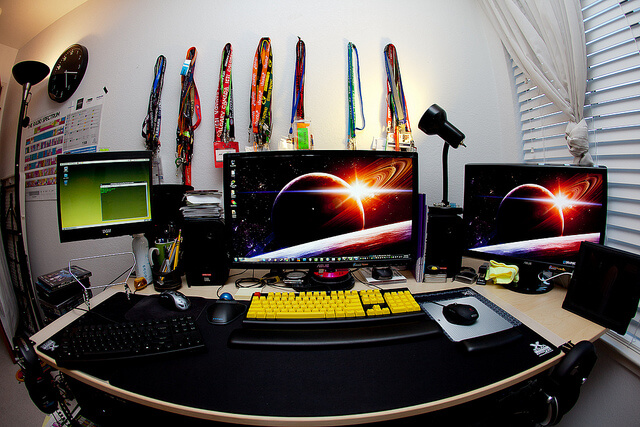 In the picture: Left monitor is a 15″ widescreen which I use to test on a older PC, right now it's running CentOS 6. The middle monitor is my main, it's a Asus 27″ and the monitor to the right is a Asus 24″ as the secondary. On the very right is an iPad when I want to watch a movie or listen to music. Placement of the second 24″ monitor is not ideal, but the desk is limited on space and really didn't want to take the speakers off the desk. Desk is an Ikea Galant. On the desk is a XXL sized Trac Pad, on the left is another X sized Trac Pad, then my mouse pad is a Trac Pad Pro with a 3M mouse pad stuck on it.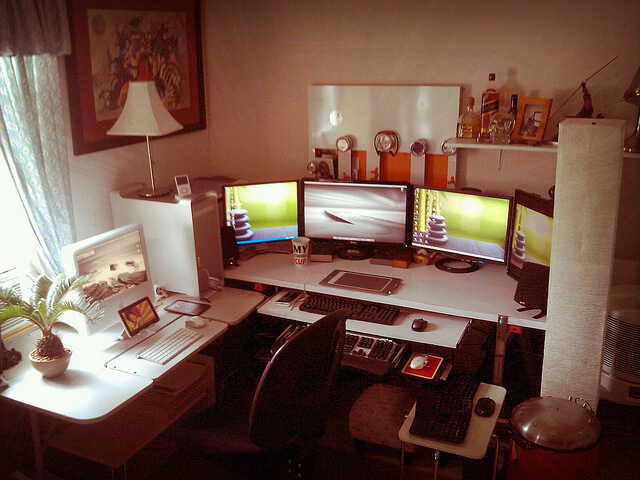 In the picture: Home Mac / PC workstation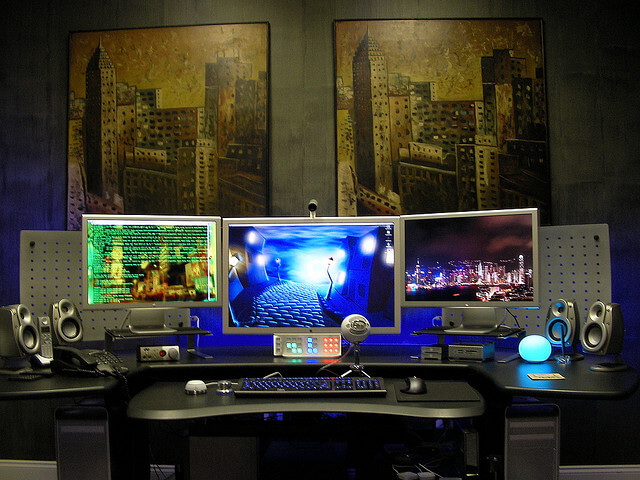 In the picture: Biomorph desk, Mac Pro on right side (2TB storage, 8gig ram, etc.), Powermac G5 on left (800gig storage, 4gig ram, etc.) Both computers are mounted to desk legs to keep them up off the floor. One Mac 30″ cinema display in center. Two Mac 23″ cinema displays on left and right. Deck keyboard and Logitech Revolution Mouse control both computers via Teleport. 5.1 Speaker system with Titanium casing. Snowball microphone. ISight. Ambient Orb tracks visitors to web site. Polycom Clarity phone (work). Panasonic wireless (home). LED light clock directly under 30″ monitor. Docks for 60Gig iPod video, 8Gig Nano and and 4Gig Nano on a concealed shelf to the left of the Mac Pro. Art work. Commerical grade blue LED backlighting for when lights are off.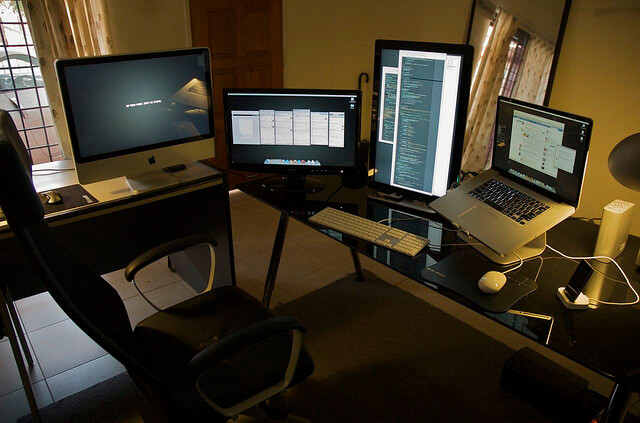 In the picture: As work demand grew, I experimented with four monitors. I actually needed only 3 but due to wiring (wall plug) restrictions I could only bring the iMac closer to my main workstation via the second monitor. I used Teleport to control both machines seamlessly with one keyboard and mouse. It was a surreal feeling to work with these.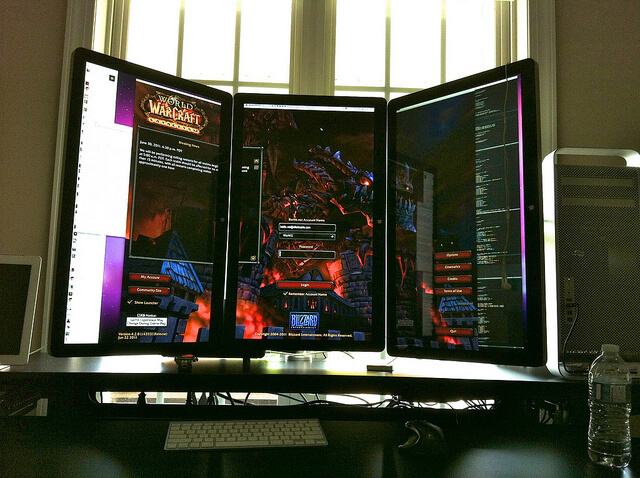 In the picture: That's a Mac Pro and three Apple 27″ Displays, mounted to an Anthro Elevate Adjusta with a Monitors in Motion Boa monitor arm. Yes, running World of Warcraft. Because I can.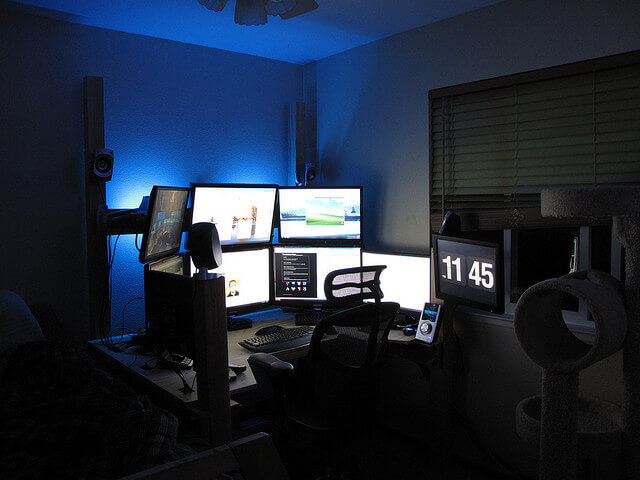 In the picture: I used the latest release of Ultramon for the task bar on each monitor in win7 (awesome). For those of you who are about to say why didn't you use synergy for the top side computer, because syngery doesn't like my layout, it isn't going to work and I've wasted hours to prove it. However i do use synergy with that server on the side.
The Raygun team think these workstations are pretty cool, but we're sure there must be even better ones out there. Is there such a thing as the perfect developer workstation?
Get notified of your software's bugs as they happen! Raygun has error tracking solutions for every major programming language and platform Start a free trial in under a minute, or book a short demo of Raygun with an experienced team member here.