Webinar: Raygun and Pivotal Tracker will help you build better software
Posted Aug 13, 2018
| 2 min.

(

222

words)
Sometimes it's hard to balance product delivery deadlines with tackling technical debt, or quickly build features whilst maintaining code quality.
In this webinar we'll discuss some of the challenges product managers and developers face when building software at speed within development teams. We'll talk about some of the best practices you can employ at your own company to ease the pain surrounding efficient software delivery.
We'll also take a look at how Raygun and Pivotal Tracker work together in harmony to streamline diagnosis of software issues, manage their resolution collaboratively as a team and deliver flawless software experiences for your customers.
Sounds great, how to I register?
(Whether you want to join live on the day or would like us to send you the recording, sign up here to join the webinar.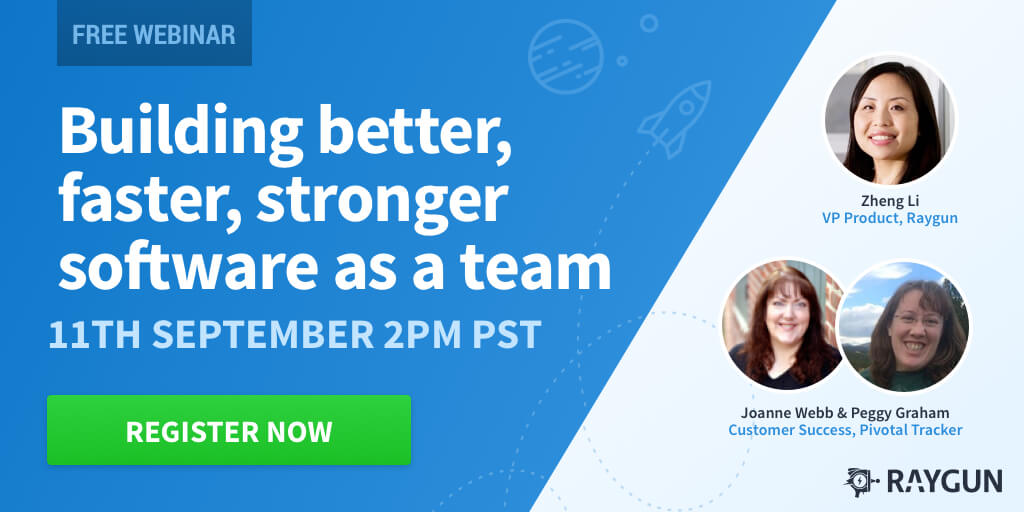 Explore Raygun's integration with Pivotal Tracker
Sick and tried of manually tracking bugs? Try our Pivotal Tracker integration.
Raygun automatically detects and diagnoses issues in your codebase and makes that information available to your entire team. Seamlessly attach a Raygun error report to a Pivotal Tracker issue, or create a new one from within Raygun. Save time and effort having to do so much manual work around tracking bugs and ensure your team workflow is as efficent as possible when building and delivering software applications.