Spread the word about Raygun
Posted Jun 12, 2013
| 1 min.

(

71

words)
Help us spread the word about Raygun.com in a second by tweeting your success of resolving an exception. When you mark an individual exception as resolved, you can optionally tweet a message from within the toast popup. You can either tweet the randomly selected fun message that pops up, or edit it to write your own tweet.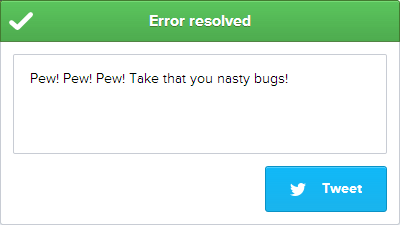 Thanks for using our Raygun error reporting service.
Until next time, Happy error blasting!