Raygun Pulse, the new Real User Monitoring service, gives you deep visibility into your actual user's metrics, without resorting to sampling. By recording the actual requests to your site as they happen in real time, Pulse allows you to visualize how your site is really behaving. Synthetic tests and QA can never show the full picture of what is really happening to your site.
One of the advantages is you get complete environment usage data, including browser and device metrics. These are the true numbers, without resorting to sampling a limited set of requests. This is invaluable when monitoring browser usage, as you'll quickly notice after integrating Pulse into your site. For browsers, the usual suspects will of course be present – Chrome, Firefox, IE, Edge, Opera. What may surprise you is the long tail, and the exact number of users on exotic platforms that will hit your site. There are a great deal many forks of mainstream browsers, not to mention bots and other potential clients that can cause load or behave in unexpected or undesirable ways. Pulse reveals this to you, complete with the usage numbers as they occur over time.
Browser data
Here's a sample of the top browser usage for one of our sites:

You get detailed data for every browser, right down to the individual page view and users. That screenshot shows some of the exotic user agents we've seen – has your site been tested in QQ Browser (a J2ME client)? Depending on your market, this could be a fair chunk of your users.
You can also expand the grouping, allowing you to see data across individual browser versions, giving you your own measure of browser adoption in real-time (no more searching for browser popularity charts):

Pulse also gives you average load times in chart form over time. Here's how the top browser vendors might look: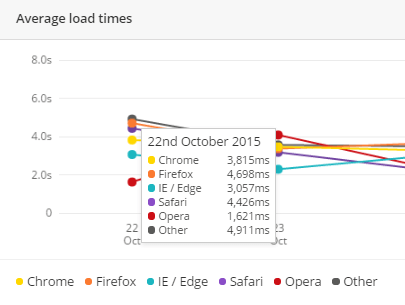 Device data
You can also drill into how your site performs on various devices. Data on the top 50 platforms is available, including operating systems and mobile phones:

Again, you can expand this to see individual operating system version. Just like the browser data you can also compare mobile vs. desktop timings in real time.
Get started with Pulse
If you already have a Raygun account, log in and click Pulse in the sidebar to begin, and after integrating you'll immediately see the above data and much more. If you don't yet have an account, sign up for a free 14 day trial – no credit card needed. Let us know in the comments if you have any questions!
** UPDATE **
Real User Monitoring for Mobile Applications is here!  See the update here