I'm extremely pleased to announce that Raygun now has first class integration with the awesome HipChat team chat product!
We are huge fans of HipChat at Mindscape so it made sense to have it as the first plugin that we integrated Raygun with. Raygun can be connected easily to any room in HipChat and push messages about errors to it so you and your team can see issues there together.
Here's an example from the Mindscape website with some errors: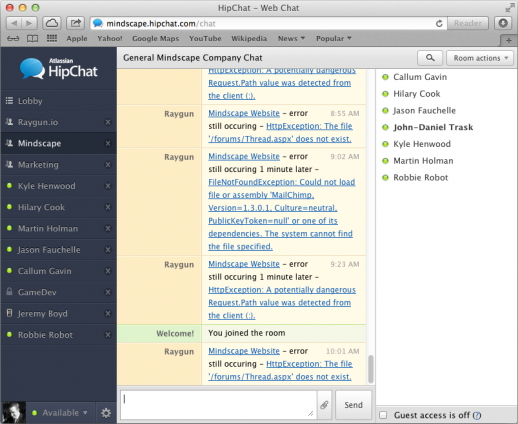 Plugin to HipChat
Plugging into HipChat couldn't be easier. Here's the three simple steps:
Go into the application you wish to report into HipChat.

Choose 'Plugins' from the side menu.

Select 'HipChat' and put in the tokens provided from your HipChat account.
Here's where to find the settings in your Raygun Account:
And here's where you can get the API keys setup from your HipChat account (note, you'll need to be an account administrator to get the keys)
It could not be easier to ensure team visibility of software issues!
We're just beginning
HipChat is the first 3rd party integration of many that Raygun will plug in to. We will be posting about new additions here as we make more available! Plugins are supported in all plans above the Micro plan.
I'd love to know your thoughts about this and what other products you would like Raygun to plugin to. Post your comments below!
Not yet using Raygun to improve software quality? Experience it first hand, for free, by starting your free trial!