Webinar: What to do after you've learned agile practices
Posted May 3, 2016
| 2 min.

(

323

words)
Raygun's Educational Series - Interviewing Jason Thane from General UI on his post agile experience.
Welcome to Raygun's Education Series.
Every month Raygun aims to give you actionable insights into producing even better quality software using the latest tools and methods.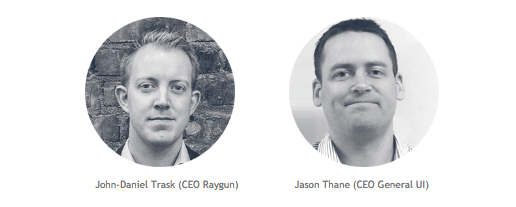 Agile
In this free webinar, Raygun's co-founder John-Daniel Trask hosts a conversation with General UI's CEO Jason Thane and Director of Developments Kevin Klinemeier on how implementing post agile practices have taken their team to smoother, more efficient production, saving both time and money - especially in production.
"Post agile is when your team has a set of agile tools and knows exactly when to use them…and when not to";

Jason Thane - CEO of General UI
Even though agile practices are the most implemented management frameworks in software companies, many still struggle to grow them into an adaptable framework. And it can be tough finding the right balance between tools and systems for your team.
Luckily for us, Jason goes into detail about which systems General UI use to consistently produce great quality software for thousands of customers every year.
Inside this webinar, you'll learn:
How General UI makes consistently great quality software with their post agile practices
How implementing post agile practices significantly improved General UI's output quality and how you can do the same (whilst also keeping your team happy)
When sprints aren't necessarily the most efficient practice for all teams
Which tools General UI uses to schedule and prioritise workers
Why the quality of the software lies in the quality of the team (and what Aristotle has to say about team dynamics)
How to sell peer programming to management and your clients
Watch the full webinar here:
Listen on Soundcloud:
Resource list from the webinar:
Did you enjoy this webinar? Get notified on our next webinar in the Education Series: